Black Aluminum POW/MIA/KIA Bracelets
For Our Freedom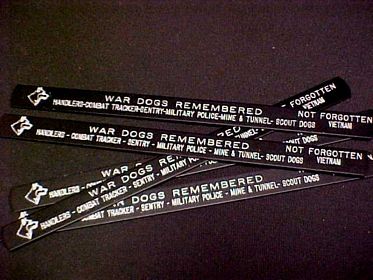 In Honor They Gave-- Memorial Bracelets
Let every nation know, whether it wishes us well or ill, that we shall pay any price, bear any burden, meet any hardship, support any friend,oppose any foe, to assure the survival and the success of liberty........ John F. Kennedy.
PLEASE NOTE: In regards to Custom order bracelets that we engrave per your request. We only verify, The Name and date of loss. All other information is from you. Also if you are adding an end engraving , the prices are per already engraved custom bracelets with the end engraving extra.
We cannot accept returns on custom bracelets- unless it is our mistake. If you order- please do not attempt to ask for a refund on a CUSTOM Engraved Bracelet that you made a mistake on.
Rules for ordering:
1. Check your spelling
2. If you order the UN-Bent Bracelets- Put the information you want engraved by line number. Up to 3 lines
Thanks
John
Please allow up to 1.5 weeks for shipping for UN-Bent Bracelets. We will try to expedite as soon as possible. Thanks for your support. These Bracelets are .75" wide by 7 inches long, Black 1.5mm Aluminum, Engraved here in the USA. Our bracelets are not made from overseas, We engrave with a carbide tip to ensure depth and long lasting, these are not diamond scratched-- If you want Diamond Scratched there are companies who will do this! We only ship priority mail with insurance to cover you and us. *******NOTE: ALL ORDERS ARE CHARGED A SHIPPING FEE-- EVEN IF THE TOTAL DOES NOT INDICATE A CHARGE WHEN YOU CHECK OUT-- YOU WILL BE CHARGE FOR SHIPPING-- NOTE*******