13 Star Betsy Ross Flags
Chainsaw Carved 13 Star Betsy Ross Flags
13 Star Betsy Ross Flags: Custom Carved, with Western Cedar, Sitka Spruce or (ask what we have as of wood type..)
All flags are custom carved, with a 3 to 4 week lead time depending on the weather as we do all work outside.
Quotes given, email us or text at 253-906-0974.
Cost
Flags start at $200 each, Fractal Burning adds $50. ,, Size Matters-- example a 52" Long x 23" wide by 2" thick Wavy Cedar Flag with metal stars runs around $750.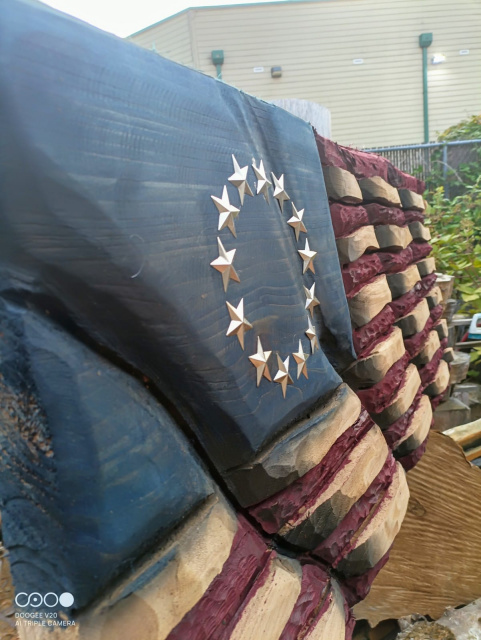 A Non-wavy flag 52" Long x 23" wide by 2" thick runs about $380.00
Military emblems are extra These are made of Polymer Resin. around $15 each that can be placed on the flag; some are less
Laser engraved emblem on the flag is an additional $35.00, engraved within a 6x6" area
Painted as like the Don't Tread On Me Snake is an additional $45.00
For the 13 Stars we can use 7.62CAL Military or 308CAL , 50CAL Browning M2 Machine Gun, 500CAL, 45CAL, 223CAL (AR15) or 5.56CAL Military Spent brass for the stars and Shotgun Shells.. No live shells
Here are some examples of the flags we have carved, non conclusive